UKG InTouch DX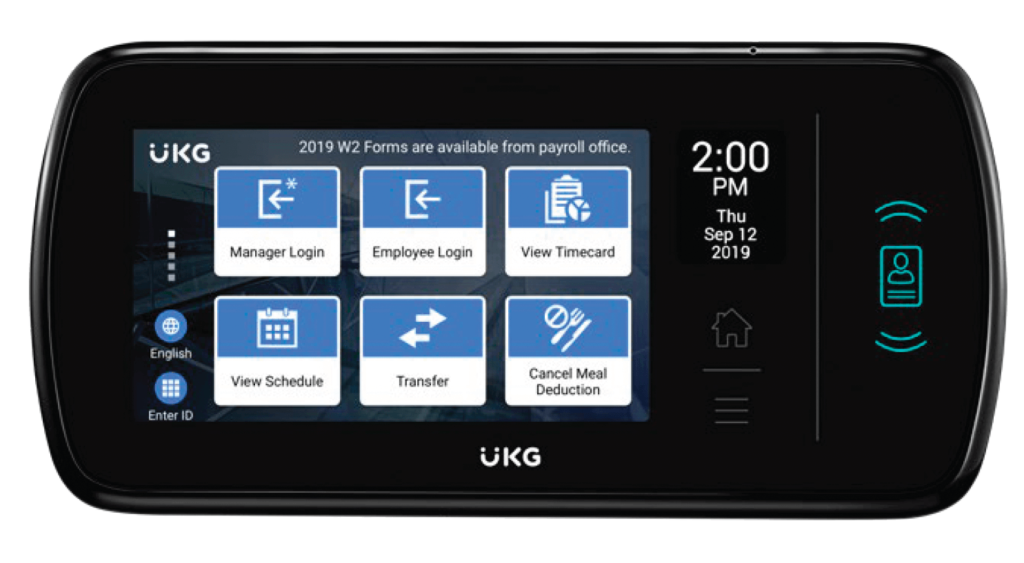 Innovative Timeclock Designed For The Future Of Work
The UKG InTouchTM DX is an innovative timeclock designed for the future of work. With its sleek design and slim profile, the UKG InTouch DX embraces the best of modern consumer electronics.
A large, super-responsive touchscreen and optimized viewing angle ease and speed interactions. Employees can punch in and out faster than ever and navigate to their schedule, time-off requests, and timecard all from one screen. An always-on time and date display and illuminated card reader icons let users get right down to business for a better employee experience.
The UKG InTouch DX combines ergonomic features with a rugged, industrial design that stands up to serious abuse in even the toughest work environments. It's amazingly easy to install and service, and it offers an intuitive interface that's simple to learn and use. Plus, the UKG InTouch DX works seamlessly with our HCM solution to help drive accurate timekeeping, collaborative scheduling, regulatory compliance, and real-time access to the latest employee data.

Benefits

Supports completely touchless in/out punching, either when used in conjunction with an RFID badge or when configured to operate in "always-on mode."
Uses the latest in biometric technology, which will not authenticate a printed photo or an image or video on a smartphone or a tablet.
Dual visible and infrared cameras operate in all indoor lighting, from very dark to brightly lit environments.
Eliminates issues encountered with finger-scan biometrics, including worn fingertips and cold/dry/ wet fingers, or motor control issues with positioning a finger on the scanner.
Supports two-factor authentication, where employees use a badge or type in a badge ID and then validate their identity with a face scan.
Avoids the need for employees to touch a shared surface to punch in or out.
Eliminates the need for employees to type in an ID or use a badge and it can authenticate with just a quick face scan.
Features
• 7" color wVGA LCD and dedicated, always-on time and date display
• 10/100 Mbps auto-sensing Ethernet with DHCP, HTTPS, IPV4, and IPV6 support
• Integrated bar code badge reader
• Magnetic stripe card reader
• HID proximity card reader
• 10,000 EE user capacity
• All-level job costing
• Extra pay
• User validation
• Cost center validation
• In/out prompt
• Schedule checking
• Views of accruals and schedules