NT55MII Durable Smartphone with Built-in Barcode Scanner

Ideal for a mobile workforce, this lightweight smartphone is equipped with a versatile scanner that reads QR codes and efficiently captures job tracking data.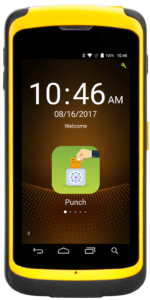 Product Overview
NT55MII is an Android smartphone with a built-in barcode scanner. With a large color touchscreen and compact design, the NT55MII is an ideal data collection device for employees in the field or on the go. Easy to use and portable, the NT55MII features a built-in 2D or Laser scanner and supports Wi-Fi and GSM 3.8G HSPA+ wireless capabilities.
App updates are delivered automatically via Google Play. A SIM card and data plan are required.
Key Employee Features & Functionality
In and out punching.
Multi-employee, multi-group, and department transfers.
Input hours for sick leave, vacation, personal leave, etc.
Input tips, bonus dollar amounts, etc.
View timesheets and schedules.
Features for managing a large workforce
"Scan and go" functions to efficiently collect barcode data without additional touchscreen navigation.
Employee image display after each successful punch for quick verification of an employee's identity.
Schedule lockouts to prevent employees from punching outside of times defined by your organization.
Benefits
Touch-centric experience similar to that provided by a personal smartphone ensures quick user adoption with minimal training.
Rugged, industrial design suitable for virtually any work environment, including those where exposure to dust, water, and frequent drops may be common.
IP65 rating, an objective measure developed by the International Electrotechnical Commission, means it can safely operate in rainy and dusty conditions in the field.
Secure, real-time data transmission in the field afforded by reliable WiFi and 3.8 HSPA+ wireless connectivity.
Efficient, accurate data capture indoors and outdoors, laser or 2-D scanner. An NT55MII with a 2-D scanner is capable of reading newer QR codes.