UKG InTouch 9100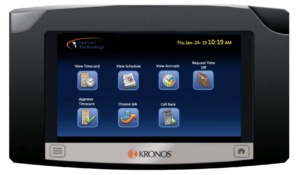 A multitasking timeclock for fast, easy data collection and so much more!
Built for today's modern workforce, the Kronos InTouch® delivers an unrivaled user experience that changes the way employees interact with our human capital management solution.
Built using proven, durable technology designed to withstand heavy use — day in and day out — even in harsh environments. The simple touchscreen interface enables employees to clock in and out quickly and easily. It provides a simple and intuitive interface for instant engagement and superior usability, and supports a variety of input methods — barcode, magnetic, proximity, touchscreen, smart card, and biometric. What's more, it can be easily customized to meet the ever-evolving needs of your diverse, dynamic workforce. The device's rugged durability and compact, easy-to-mount design make it the ideal time clock for virtually any work environment.
The Kronos InTouch lets both employees and managers perform a variety of tasks right at the device for increased productivity and convenience. By simply touching an icon on the screen, employees can view their schedules and time-off requests. They can record and view piecework count to monitor progress toward goals and quotas. They can even review and submit their timesheets via the InTouch instead of having to log in to a computer. Rules-based restrictions at the clock enable organizations to accept or reject punches in real-time for increased payroll accuracy and reduced compliance risk.
---
A time clock for today's modern workforce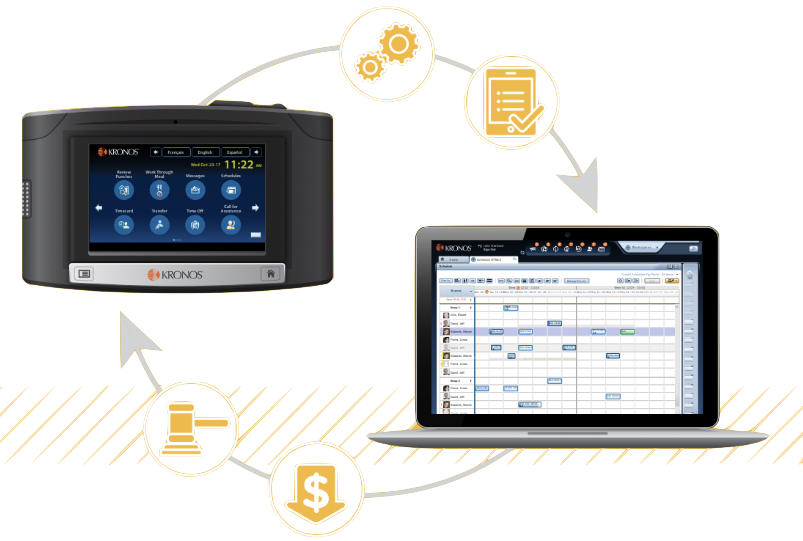 Ready for an innovative time clock that helps you get even more value from your human capital management solution? The intuitive, multi-purpose Kronos InTouch is transforming the way organizations think about — and the way employees interact with — their human capital management system. So you can achieve faster employee deployment, improved productivity, and self-service convenience for bottom-line results.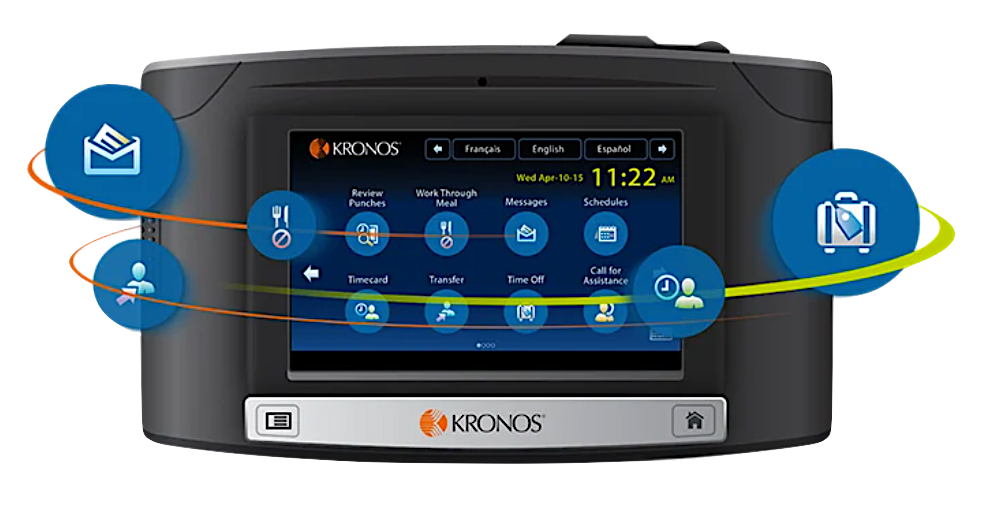 Large 7″ touchscreen with wide VGA, full-color LCD
Optional biometric verification for increased payroll accuracy
Support for all major badge formats
Easy-to-understand LED indicator
Available Wi-Fi connectivity option
Up to 10,000 EE user capacity, depending on biometrics; logging enabled
Five-level job costing
Extra pay
Door relay
Bell relay
User validation
Cost center validation
In/out prompt
Views of accruals and schedules
Time-off requests