Computer Entry – Mobile Solutions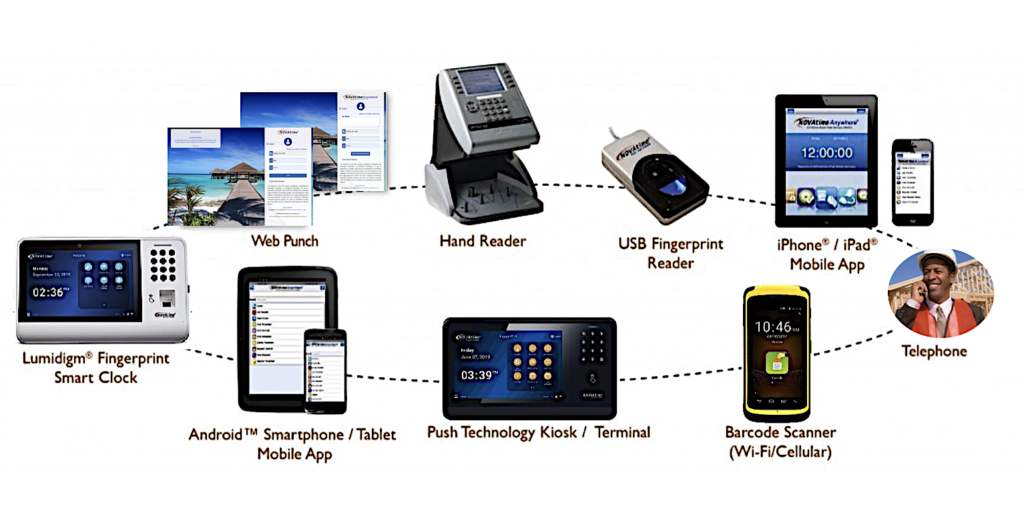 Phone-In Solution
Thanks to the internet, working remotely from any part of the globe is now made possible. Instead of commuting to and from a brick-and-mortar office day in and day out, work can be accessed from home or other remote worksites. This mobile workforce is more convenient and accessible, without compromising compliance with existing labor laws.
NOVAtime is a revolutionary breakthrough in the workplace, offering wide-ranging mobile solutions duly incorporated with our key system, and fulfilling the demands of all types of mobile workforces. NOVAtime provides convenient and accessible timekeeping for punching in/out of work shifts, break requests, as well as schedule checking – all of which can be accomplished either via a standard phone call or a quick tap on your smartphone.
Ruggedized Handheld Barcode Scanner
The NT55M is a gadget ideal for on-the-go workers involved in more rugged settings like construction. Equipped with a barcode, it is Wireless WAN-capable and Wi-Fi certified, making timekeeping for both supervisors and employees mobile and more convenient! Aside from having an impressive 2D scanner capable of scanning either 2D or basic barcodes, it also showcases a vibrantly colored and user-friendly touchscreen.
SIP phone-in/IVR system
Even in this digital age, there still remain worksites devoid of the internet. Mobile workers such as construction workers, housekeepers, and home health caregivers who happen to work in a place with no internet can still clock in/out and consult work schedules, thanks to the SIP Phone-In Solution from NOVAtime. Such tasks can be accomplished by a simple phone call via a system secured with auto-transfers for clocking workers into their assigned locations as well as caller ID account lockouts. This guarantees employees can call only from official locations specified, using numbers that have been duly authorized.
Web punch
NOVAtime is a comprehensive web-based solution that can be accessed anytime, anywhere, and using any device – be it a smartphone, a tablet, or a PC. All it requires is a stable internet connection. Demanding nothing more but your web browser, no extra software is needed. The screen display can be automatically adjusted to varying sizes. Plus, its geolocation option helps employers confirm if workers are punching in/out using authorized numbers from official locations.
Native Mobile Apps for iOS, Android Smartphones, And Windows 10 Smartphones
In today's times, workforces are going mobile. With this inevitable trend, NOVAtime provides native mobile applications designed for Android™ smartphones and Apple iOS. Available for iPad®, iPhone®, and other tablets, these apps are promising ways for increasing productivity as well as keeping your mobile workers consistently responsive in real-time.