NT7000 Smart Time Clock
Versatile design and full-color, touch-screen kiosk for modern capability.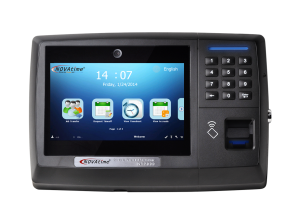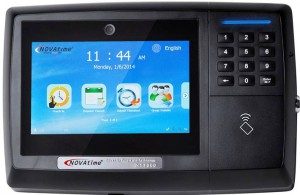 NOVAtime's NT7000 terminal offers standard functionality options for clocking in, out and transferring. Furthermore, you'll be impressed with the full range of options this self-service kiosk offers to your entire workforce including a one-of-a-kind video display feature. The NT7000 utilizes NOVAtime's advanced PUSH technology, completely removing the requirement for data download processes including legacy polly, as all data communications are performed in real-time.
Our customers come to us with unique needs and exclusive functionality requirements, which is why we've come to offer a range of clock options from fingerprint readers, to proximity (RFID/HID), wireless, and Power over Ethernet (PoE) connectivity to key entry. Additionally, the biometric fingerprint readers, used within the NT7000, support an astounding automatic enrollment feature that is capable of holding up to 50,000 punches while offline.
Employees Benefits:
Multilingual support (English, Spanish, French & both simplified and traditional Chinese)
Clock out and in utilizing key-in, proximity, fingerprint, (including employee ID, SSN, or badge number), or any combination of these approaches;
Transfer groups from multiple levels to support workforce budget needs;
Key in vacation time, personal leave, sick leave, etc.
Key in tips, dollar amounts for bonuses, tips, etc.
Store and view workflow schedules, timesheets, employee accrual balances, as well as data tracking performance;
Automate time-off requests
Clock in and out times available to view from both on and offline modes;
View up to three weeks of offline punches;
Submit timesheets for review and approval
Timesheet comparing tool to confirm or deny timesheets with management;
Management Benefits:
Multilingual support (English, Spanish, French & both simplified and traditional Chinese)
Ability to input employee lockouts, meal lockouts, and schedules
Easily access work schedules, employee timesheets, and accrual balances
Reduce manual requests from employees making it easier to maximize their productivity
Send secure messages to your employees
Additional Functions
Seamless communication to the NOVAtime server
Supports your HR department as an extension that will support after-hours inquiries
Self-service functions eliminate the need for proximity to an HR Office
Reduce and eliminate polling or data collection required with advanced push technology that provides real-time data
Self-maintenance utilizing bi-directional synchronization of the data
Simple support and maintenance
Ensures reliability and accuracy, removing concerns and questions about your workforce management processes
Easy to use touch screen display
Prevents buddy punching
Saves cost on having to create badges—your finger works as your badge!